Hard Bargain to celebrate completion of vital project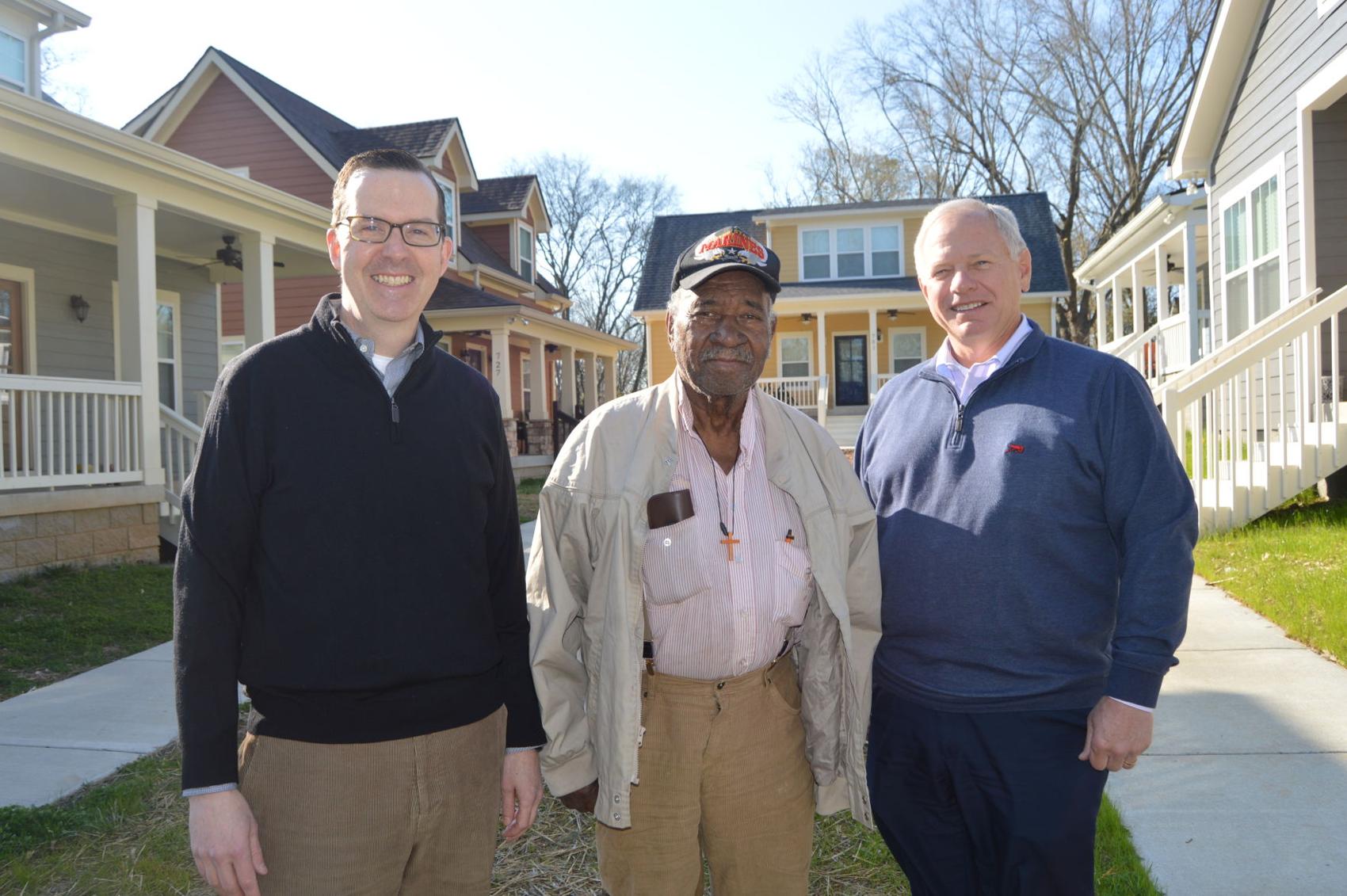 FROM: Williamson Herald –
Since its commencement in December 2013, the Hard Bargain Association has completed its pocket-neighborhood project, which has helped five families to achieve homeownership and could impact generations to come.
At its annual fundraising dinner, set for April 2, the association will celebrate the development's completion and its newest homeowners, identical twin sisters Janell and Shawnell Goodlow, who closed on the purchase of their home in February.
"This evening is a wonderful time of coming together to celebrate the work of Hard Bargain Association," said HBA Executive Director Brant Bousquet. "Affordable housing is a critical issue in Franklin. The median sales price of a home in Franklin is almost $500,000. Some apartments start at $1,500 per month for a one-bedroom unit. These prices are out of reach for many in our community."
HBA builds new homes and sells them at below market value to low- to moderate-income families and individuals.
The pocket neighborhood, along Mt. Hope Street, is an example of what HBA can achieve through partnerships, funding grants and donations collected from individuals and via fundraisers, Bousquet said.
All five units are now occupied and are an integral part of the neighborhood that spans a few blocks.
"These five homes are a beautiful addition to the Hard Bargain neighborhood," Bousquet said. "Homeownership is the easiest way to create wealth in our country. These homeowners are having the dream of homeownership come true, and it will change not only the individual homeowners' lives but their children and grandchildren."
Bousquet thanked Crane Builders and project superintendent John Murphy, who grew up in the neighborhood, and said the bungalow development provides a standing legacy in Hard Bargain.
"These are beautifully crafted and designed homes built by David Crane of Crane Builders," Bousquet said. "This nice, little bungalow court is a pocket neighborhood within Hard Bargain, and it will be a lasting legacy for each family and will have an impact for generations to come."
Crane and Bousquet agree that affordable housing in Franklin is getting more and more difficult to come by.
"Land prices in Franklin have more than tripled in the past five years, which is detrimental to the affordable-housing community," David Crane said.
Crane said that to create an affordable-housing development or units, nonprofits usually have to raise the money to pay for the land. Bousquet then explained that builders such as Crane Builders and other local contractors have to give of their time and resources.
"I am glad to be a part of this project because it's a way help keep people in the Hard Bargain neighborhood who might otherwise not be able to stay or move back," said Crane, who has been involved with the neighborhood for almost 20 years. "I have a heart for Hard Bargain, and it's a way to give back to the community and to the industry."
Project superintendent and skilled life-long brick mason, Murphy, who is also a U.S. Marine and Army veteran, said that he believes the bungalow development strengthens the neighborhood and helps to fulfill dreams of home ownership.
"Most people could not have afforded it, if they had not used the program," Murphy said. "Elderly and young people appreciate it so much. The lord has blessed us."
Hard Bargain Dinner
The annual Hard Bargain Celebration Dinner is set for April 2 at the Williamson County Enrichment Center in downtown Franklin. Doors will open at 6 p.m. for a silent auction, appetizers, and drinks. The program will begin at 7. Dinner will be provided by Catering & Events by Suzette. Individual tickets are $75 per person and can be purchased online, at https://hardbargain.kindful.com/?campaign=352461 or a check can be made payable to Hard Bargain Association and mailed to PO Box 545, Franklin, TN, 37065-0545.
About Hard Bargain
Hard Bargain Association's goal is to help preserve and revitalize the historic Hard Bargain neighborhood, which was founded more than 130 years ago by Harvey McLemore, a freed slave. The mission is to preserve the historic Hard Bargain neighborhood by renovating existing homes, building high-quality yet affordable housing and enriching the lives of our neighbors. Through the HBA rehab program, volunteers help repair homes of elderly residents in the neighborhood.
The vision is to transform the neighborhood into a diverse and vibrant community for generations to come.
"We are grateful for our partners, individuals, businesses, churches, schools and volunteers, who help us keep Hard Bargain a thriving neighborhood," Bousquet said.
For more information, visit www.hardbargain.org.