Burgin, Crossley reflect on service to Brentwood at their last commission meeting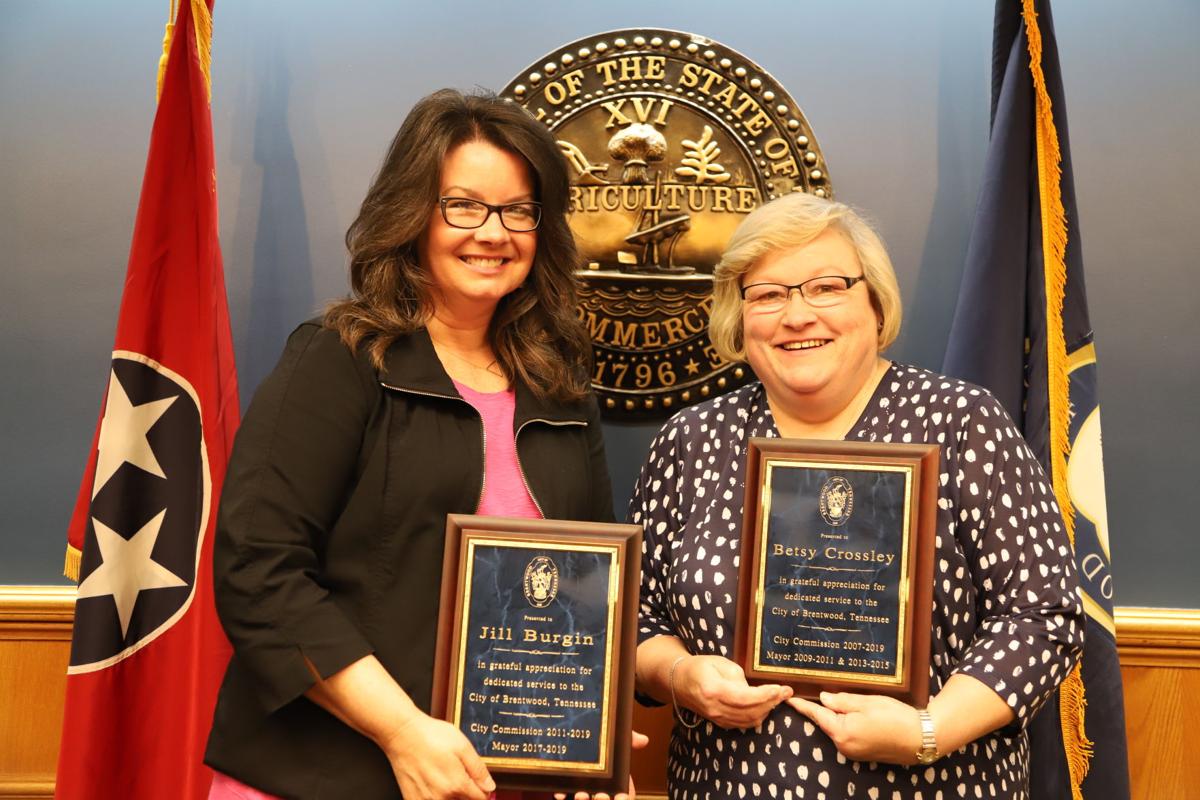 FROM: Williamson Herald –
Mayor Jill Burgin and commissioner Betsy Crossley, both not seeking reelection, delivered emotional parting words during their last Brentwood City Commission meeting Monday.
They even borrowed a few meaningful words from Dr. Seuss and Winnie the Pooh to help them express their unforgettable time serving Brentwood citizens.
Burgin has lived in Brentwood since 2000 and was first elected to the city commission in 2011, then was reelected in 2015. In addition to one term as mayor, she served two terms as vice mayor.
Crossley was first elected in 2007 and is currently serving her third term as a city commissioner. She was elected mayor twice, and is also a member of the Brentwood Tree and Brentwood Library boards.
Both outgoing city officials held back a few tears as they delivered their final remarks at a commission meeting.
Burgin recalled being late to her first work session after being elected in 2011.
"I had miscalculated the Maryland Farms morning traffic, and arrived just five minutes after the official start time," she said.
Since that time, Burgin has reached many accomplishments, such as representing Brentwood in regional organizations.
"I make a point to give Brentwood a seat at the table at regional organizations, even when Brentwood wasn't the most cooperative guest," Burgin said.
Burgin feels the city commission is accomplishing what it is meant to do.
"This board is really an apt example of how a group of different people could work for a common cause, and really can get stuff done," Burgin said.
A quote from Winnie the Pooh is how Burgin summed up her experience serving on the city commission.
"How lucky I am to have something that makes saying good bye so hard," Burgin quoted. "Thank you Brentwood for letting me serve you, which has turned out to be the most incredible opportunity I've ever had."
After holding back tears, Crossley said she could not believe how fast time flies when serving.
"It's hard to believe it's been 20 years since I began serving Brentwood," she said. "It's always been my intent to serve the city of Brentwood and community by balancing growth and proving the best quality of life."
Crossley felt the city commission has always been one that was civil.
"In a political world that can be unkind and useless and very bitter commentary, it's not the case here, and I thank this board for always having very civil, positive discourse," Crossley said.
Future plans for Crossley include still being plugged into the Brentwood community.
"I hope to serve in leadership roles in our area for the next few years," she said. "I'll still be supporting several nonprofits in our community serving on their boards."
Crossley is also looking forward to new adventures that come with welcoming her first granddaughter in August.
It was an emotional night for Crossley, but she left citizens with one last quote from Dr. Seuss.
"Don't cry because it's over, smile because it happened," Crossley quoted.
Fellow commissioners shared their thoughts and memories about their outgoing colleagues.
Commissioner Anne Dunn said that all members have shared and endured many personal triumphs and tragedies together over the years.
"It's been a privilege to share that part of your life," Dunn said. "We can sit up here and fight like cats and dogs if we have to over an item, but when it's over you're still my friend, and I'm still your friend. That is such a comforting work atmosphere."
Commissioner Rhea Little said he will miss both of his colleagues greatly.
"You truly were and are servant leaders," Little said. "You've carried out your callings well."