Horton to leave Franklin Fire after nearly 30 years, head county emergency agency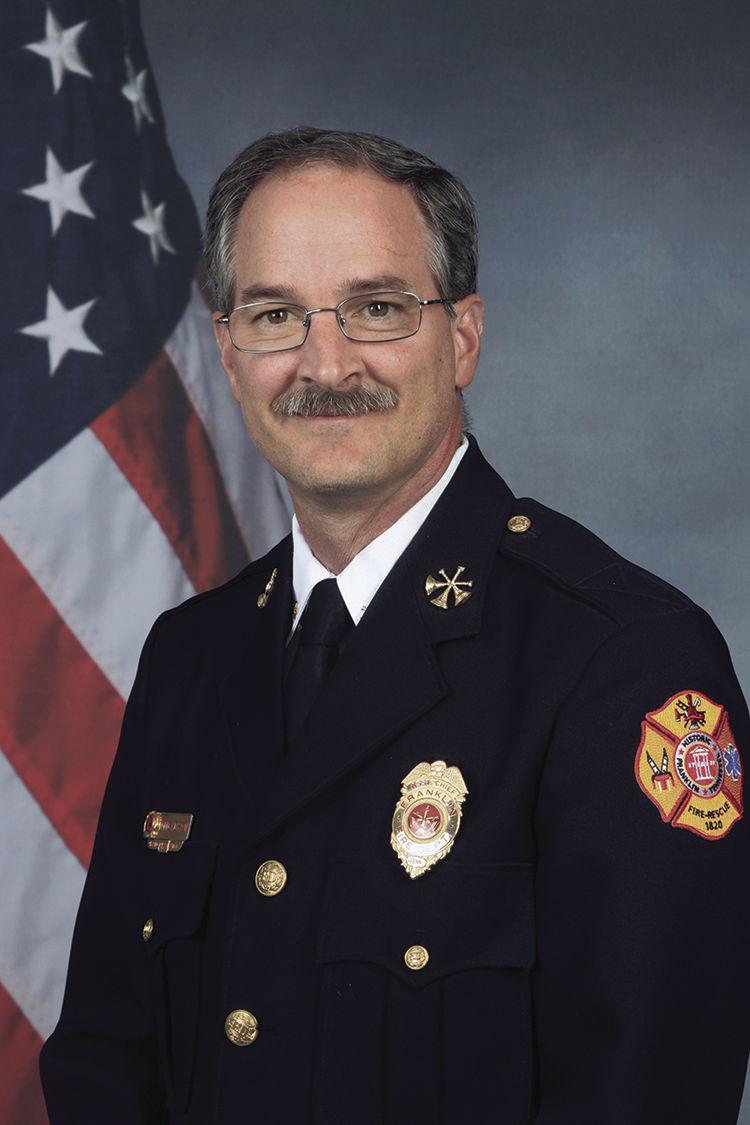 FROM: Williamson Herald –
After nearly 30 years with the Franklin Fire Department, Deputy Chief Todd Horton has announced his retirement with the city before entering the new position of Director of the Williamson County Emergency Management Agency.
He will be honored at a retirement reception Thursday, April 25 at 2 p.m. in the boardroom of Franklin City Hall located at 109 3rd Ave. S.
"Very few people dedicate themselves to their job in the manner Deputy Chief Horton has over the past 29 years," Franklin Fire Chief Rocky Garzarek said. "We will forever be grateful for his endless hours of hard work, service, and commitment as a tireless professional, loyal comrade, and faithful friend. To say, we will miss him does not seem to sufficiently express how much he means to us, our department and our city."
A Franklin-native, Horton began his firefighting career just after graduating from Franklin High School.
He began as a volunteer firefighter for the Williamson County Rescue Squad, which his father, Donnie Horton, co-founded. He was hired by the Franklin Fire Department in 1989 by Fire Chief Mark Riggsbee.
Horton worked his way through the ranks, serving as a firefighter, engineer, lieutenant, captain, assistant chief, deputy chief, and even acting chief. In his present role, he serves as Deputy Chief of Administration and Emergency Management.
Franklin City Administrator Eric Stuckey said Horton would be missed.
"We are grateful for Deputy Chief Horton's countless contributions to the community and to our city team over the past 29 years," Stuckey said. "While we will miss Chief Horton as a part of our city team, we know he will continue to serve the community well as the Emergency Management Director for Williamson County.
"We wish him the very best and look forward to working with him in his new position."
Throughout his career, Horton has made countless contributions to the Franklin Fire Department and the city of Franklin. He was instrumental in improving the city's fire protection rating with the Insurance Services Office (ISO), achieving the top rating of ISO Class 1 in 2015.
Additionally, Horton has overseen the construction of several fire stations and the purchase of multiple apparatus and pieces of equipment for a city that has quadrupled in size during his tenure.
Horton said his most memorable fire department calls occurred early and late in his career.
His early memorable calls include rescuing a man from a house fire, who unfortunately passed away days later. They also include falling through a compromised roof, then falling off a roof due to icy conditions, both while fighting structure fires. When he fell through the roof, he landed in a room filled with heavy smoke, without his breathing apparatus. When he fell off the roof, he landed in a dumpster. He said he was blessed that he did not sustain significant injuries in either incident; both could have been deadly.
His later memorable calls include the May 2010 flooding in which Horton helped to manage the tremendous response to that event, involving the evacuation of more than 400 people by boat from flooded areas. Additionally, following the event, Horton was the city's designated FEMA liaison, managing efforts to recover the city's costs related to the Major Disaster Declaration.
When a fatal gasoline tanker explosion on Interstate 65 in 2014 destroyed the Goose Creek Bypass-Peytonsville Road overpass bridge, emergency services were no longer able to reach southeastern Franklin, which dangerously increased response time by more than 30 minutes.
Responding quickly, Horton coordinated the establishment of a temporary fire station as an emergency measure that very day inside the Williamson County Ag Expo Park building, known as Station 7. A groundbreaking ceremony for the permanent Station 7 will take place Tuesday April 24 at 2 p.m.
Horton's other recent accomplishments include overseeing the implementation of the 700 MHz radio system expansion project, the purchase this year alone of two 100' aerial platforms, one heavy rescue, one technical rescue, one hazmat unit, and one new engine.
Horton has received multiple awards, including two for recent deployments to Sevier County in 2016 and Texas in 2017 to assist with Hurricane Harvey. In Sevier County, Horton helped manage efforts to fight the destructive wildfire in Gatlinburg that claimed 14 lives, destroyed or damaged 2,545 homes and businesses, and burned 17,904 acres.
Horton and his wife Pam live in Thompson's Station. They have two daughters, a son-in-law, and a granddaughter.